Rule number one: stay true to your brand. Choose a tone of voice that reflects your genuine values. Don't do what your competitors are doing and don't try and be something that you're not. Don't try and be fun and goofy if that's not you. Equally, don't try and be serious and direct if that's not you.
Here's a little exercise to get you started. Ask yourself – if your brand was a person, what would they be like? If it were a biscuit, what biscuit would it be? (we'd be a party ring). Try and see your brand as a person who speaks in a certain way and has their own unique set of values, attitudes and behaviours. Why does your brand do whatever it does, and why is it so passionate about it? Create the backstory.
From this image in your mind, pick three core human values for your brand. Human values are the key to strong marketing, after all. Ask yourself, where on the line would your brand's personality fall on each of the below integer characteristics?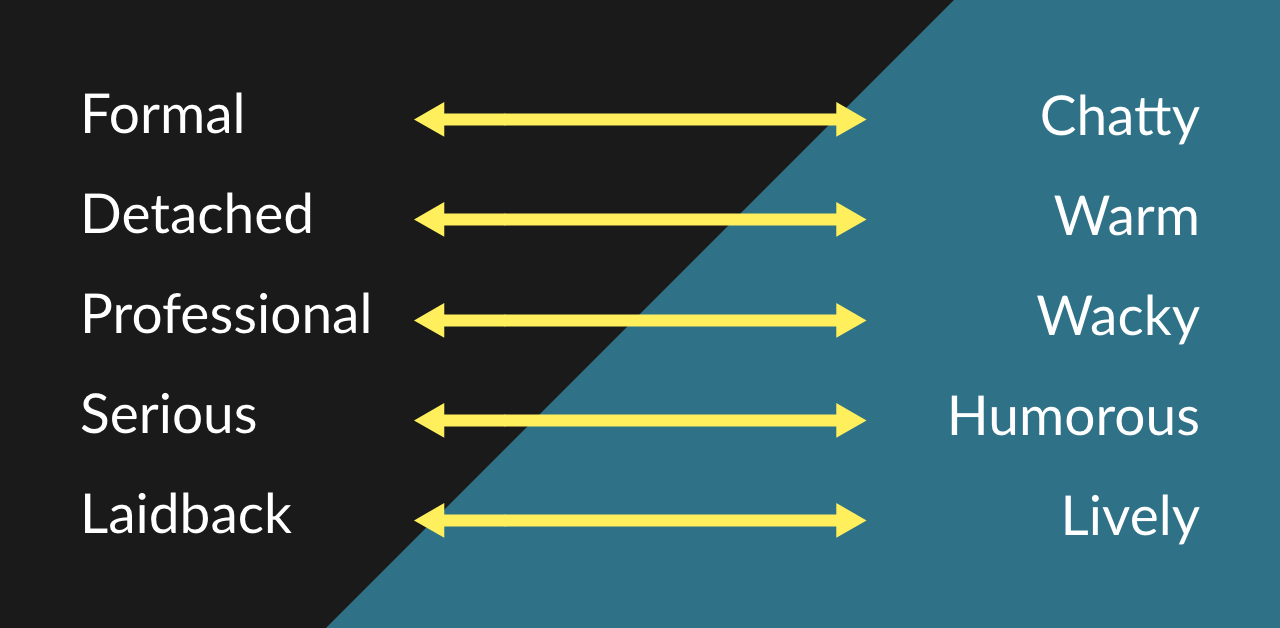 By now, your brand's personality might be taking a little more shape. When it comes to actually implementing this into your marketing material, think about your choice of words, the length of your sentences, the rhythm and pace of the content and the emotion and possible humour that it conveys. Every word and comma should feed into this brand identity.
And remember, it's okay to alter and adapt this tone of voice depending on the platform you're speaking on, and where in their journey a customer might be. For instance, you'll probably want to speak differently on social media (on a more human level), to the way you speak on the services page on your website (more professional and detail-heavy).
Your brand might also have to speak to different audiences. The most common example of this is in products marketed to children. Adults are the ones purchasing the product, but children will be the users. You need to find a way to speak to and appeal to each group.
Lastly, your tone of voice will have to morph into different moods. Although the underlying character of your brand won't change, it may have to adapt to different situations and areas of the customer journey. Whilst it might start out bright and breezy when inviting customers in, at some point when you get down to the nitty-gritty of your services or products, you'll need to drop this a little to make way for important detail and straight forward information.